Request a Callback

Blinds Biggleswade
Looking for Blinds in Biggleswade and Bedfordshire...?
Great you have found us.. But why use Biggleswade Blinds?
We are local run family company and live in Biggleswade
We give up to 50% discount on all orders
Whilst on your property we will measure the areas and give our opinion if requested
As soon as we have measured and noted your prefered fabric choice we leave!
You will receive a written quote within 24 hours
We will then arrange a fitting date and fit for FREE
We will give you 12 months guarantee on all our stock
We provide a friendly 1st class service
Remember FREE measuring and FREE fitting
It is easy.. Just fill out the quick contact form and from here we will do all the running around..... If you would like to use the site effectively you can navigate from the top left corner or just feel FREE to read on for more information..If you scroll down to the bottom of the page you will see examples...
Look at the sample books below
CALL US ON 01767 360009 AND WE WILL ARRANGE YOUR SURVEY...FREE OF CHARGE!
Welcome to Biggleswade Blinds... Your local blind experts in Biggleswade!
Biggleswade Blinds are really your local blind experts...... We have been in the business for 6 years now both online and offline. Julie Milton born and bred in Biggleswade has now taken on the local business from her long time partner Dave Howatson. Dave runs 2D Interiors in Letchworth a very successful Blind retailer and now both Julie and Dave are looking to service the town that means most to them BIGGLESWADE.
"We believe that with the knowledge that we have of all the major manufacturing companies within the UK that we can give a honest and affordable option for window blinds in Biggleswade and surrounding areas"
Biggleswade Blinds are a local company and we pride ourselves on our service, professionalism and delivery. We value our customers and would like to build up a long term relationship built through the quality of advice and service that we provide. There are NO hidden costs with Biggleswade Blinds as, unlike several other suppliers, with us you will receive a turnkey solution with one FIXED PRICE.
Our overheads are minimal enabling us to pass our savings on to you! We feel this isvery important in todays climate!
We offer a genuine affordable bespoke service of quality blinds in Biggleswade and beyond....
We always give you the best price on our first quotation....Try us it's true!
If you are looking for blinds in Biggleswade and around Bedfordshire...look no further as we can assist you all the way. You can contact us by phone 01767 360009 or by entering your details in the Call Back Form and we will then arrange a visit to your home, or place of choice, with our extensive range of samples.
At Biggleswade Blinds we provide you with all the information you require to make your perfect choice. Our FREE measuring service is included.
All blinds are made in our factories in the UK and will be delivered within 5-7 working days of the order being received.
Aluminium Venetian Blinds - Biggleswade
Our Venetians are made from only the best quality aluminium slat and come complete with co-ordinated top and bottom rails. Each unit is made to measure and can be purchased online and delivered to your home within 7 days. All aluminium venetian blinds are easy to maintain and simple to install...READ MORE
Wooden Venetian Blinds - Biggleswade
Wooden Venetians are available in 25mm, 35mm and 50mm slat widths, and come with a co-ordinated wooden pelmet and bottom rail. Each wooden blind is made from quality basswood and some of our ranges are available with tape ladders in various colour shades...READ MORE
Roller Blinds - Biggleswade
We have made to measure rollers look great in any window, and come in a wide range of plain and patterned fabrics. All roller blinds they are all made with quality aluminium tubing to prevent bending on wider widths and each blind is available with a chain sidewinder control or a spring loading mechanism...READ MORE
Vertical Blinds - Biggleswade
View our quality range of vertical fabrics online today, all Louvers are available in 89mm fabric widths and some in 127mm. All our verticals come complete with all fixtures and fixings and a white powder coated aluminium head rail with beaded and cord controls. A fantastic style of window blinds for directing the light towards any area of your room...READ MORE
Roman Blinds - Biggleswade
Our Roman Blind fabrics come fully lined with the option of blackout lining if preferred. Each unit is made to your precise measurements using quality fabric available online today. A choice of two head rails is available with all Roman blinds provided by us and can be made and delivered in 5-7 working days. we have installed numerous roman Blinds in Bedford in the last few months...READ MORE
Woodweave Blinds - Biggleswade
Woodweave fabrics are great for most areas of the home, made from quality bamboo and cane. Lots of wood shades are available which will blend to most decor around the home. Woodweave Blinds are made with a strong robust head rail covered with a co-ordinated pelmet and controls are available on the right or the left of the blind...READ MORE
Perfect Fit Blinds - Biggleswade
Perfect fit blinds are the revolutionary fitting system made to fit UPVC windows. The overall effect is that the blind fits seemless to the UPVC in its own frame therefore when open the blind will open with the window. This is ideal for people who like things nice and tidy and it looks brilliant. Perfect Fit. Let us show you the way forward...READ MORE
Aluminium Blinds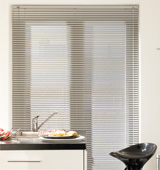 Wooden Blinds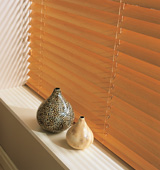 Vertical Blinds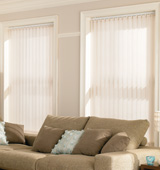 Roller Blinds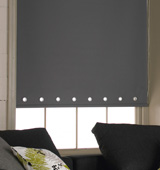 Roman Blinds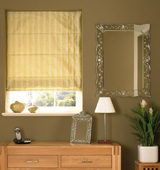 Woodweave Blinds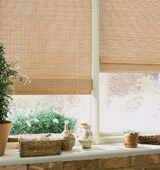 Pleated Blinds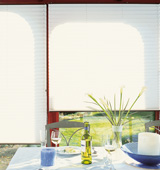 Perfect Fit Blinds